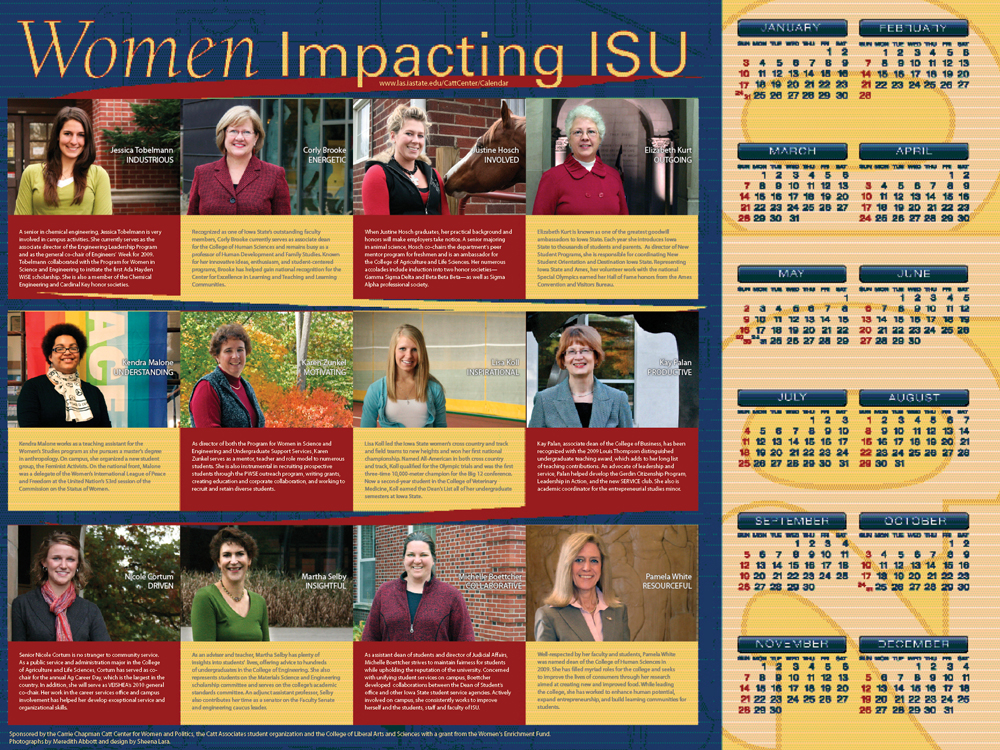 Twelve women whose leadership has made a difference at Iowa State University were honored by the Carrie Chapman Catt Center for Women and Politics on the fourth annual "Women Impacting ISU" calendar.
More than 1,000 copies of the 2010 calendar were distributed free after an official unveiling and recognition reception on Wednesday, December 9, 2009, from 3:30-5 p.m. in the Memorial Union Great Hall. The "Women Impacting ISU" calendars were formatted as a large poster with a 2010 calendar. The poster also included photographs of the five students and seven faculty and staff members who were selected based on their achievements in administration, teaching, research, service and various other campus activities.
Funding for the calendar was provided by a mini-grant from the Women's Enrichment Fund administered by the Women's Leadership Consortium and made available through the Office of the Executive Vice President and Provost.
The Catt Associates, a student leadership organization affiliated with the Catt Center, sponsors the calendar. Members of Catt Associates publicize and collect the nominations; organize the recognition reception; and help design, order and distribute the calendars. A committee comprised of representatives of the Catt Associates, Catt Center and previous calendar honorees selected the 2010 recipients.
"73 women were nominated for the 2010 Women Impacting ISU Calendar. Because of the caliber of the nominations, it was truly difficult for the selection committee to pick only 12 leaders. However, the committee was inspired to learn about all these amazing women and what they do to impact Iowa State every day," said Emily Kuster, a junior in materials engineering and one of two Catt Associates who served on the selection committee.
Students selected for the 2010 calendar are: Nicole Cortum, senior in public service and administration in agriculture; Justine Hosch, senior in animal science; Lisa Koll, second-year student in veterinary medicine; Kendra Malone, graduate student in anthropology; and Jessica Tobelmann, senior in chemical engineering.
Faculty and staff selected are: Michelle Boettcher, assistant dean of students and director of Judicial Affairs; Corly Brooke, professor of human development and family studies; Elizabeth Kurt, director of New Student Programs; Kay Palan, associate dean of the College of Business; Martha Selby, adjunct assistant professor in materials science engineering; Pamela White, dean of the College of Human Sciences; and Karen Zunkel, director of the Program for Women in Science and Engineering.
Meredith Abbott, marketing intern with the Catt Center, served as the photographer and helped Sheena Lara, graphic designer for the College of Liberal Arts and Sciences, design and format the 2010 calendar.
Published: January 1, 2010