"We haven't fulfilled Title IX totally," said Sherry Boschert, author of "37 Words: Title IX and 50 Years of Fighting Sex Discrimination," at the 2023 Mary Louise Smith Chair in Women and Politics lecture. The lecture was held on Feb. 7 in the Great Hall of the Memorial Union.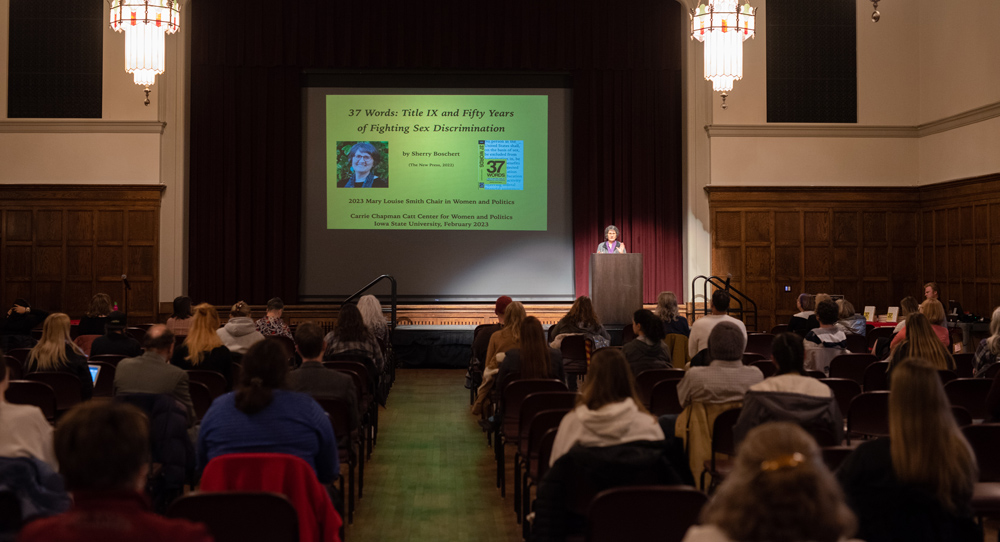 Boschert was introduced by Kathryn Burns, a senior in public relations with a minor in political science, a Legacy of Heroines scholar and an intern at the Catt Center.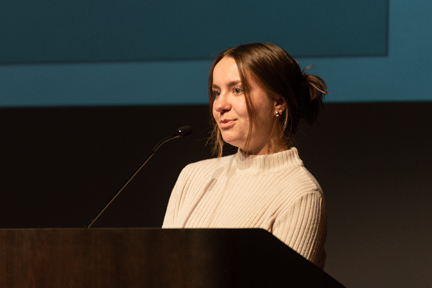 Boschert started the lecture with the first 37 words of Title IX:
"No person in the United States shall, on the basis of sex, be excluded from participation in, be denied the benefits of, or be subjected to discrimination under any education program or activity receiving Federal financial assistance…"
She provided a history of how the Title IX legislation came to be, explaining how in 1969, four Republican women in the U.S. House of Representatives pushed President Nixon to do more for women, writing him a letter with 17 recommendations. Nixon started a presidential task force on women's rights and responsibilities that produced a crucial report—A Matter of Simple Justice—which was leaked to the press.
At the same time, Bernice Resnick Sandler, coined the godmother of Title IX, was filing hundreds of complaints on behalf of women nationwide, who like her, had experienced sexual discrimination in education. The complaints caught the attention of U.S. Rep. Edith Green, a Democrat from Oregon who was chair of the House's Subcommittee on Education. Green held the first hearings for sex discrimination in education, and following the passage of Title IX in the U.S. Senate in 1972, she introduced the legislation into the U.S. House that same year.
Following discussions on whether Title IX should be a separate law or added to Title VI—the racial discrimination clause of the Civil Rights Act of 1964—it was decided that Title IX should be a separate law. Boschert said, "They took the first 37 words of Title VI, and they just amended it slightly and made that the first 37 words of Title IX." It was passed by Congress and signed into law by President Nixon on June 23, 1972.
Boschert remarked that an influx of other civil rights laws followed the passage of Title IX, arising from "putting these laws into separate silos." She explained that the silos have made it hard for people with intersecting identities to know which law the discrimination falls under—Title VI or Title IX. Boschert gave the example of Andrea Pino-Silva to illustrate that difficulty. Pino-Silva, who is featured in Boschert's book, was accused of plagiarizing a paper in high school because, Boschert said, "there's no way [her teacher] could see that a brown girl could write such a good paper."
Boschert's lecture included a discussion of the improvements made possible by Title IX, including that women have gotten into more male-dominated job spaces, higher enrollment rates in graduate school and secondary degree programs, and a greater degree of financial and emotional support for cases of sexual assault.
Title IX also has contributed to improved gender equality within sports, with more women playing high school and college sports than ever before. Boschert noted, however, there's still a gap between women and men in sports regarding funds for women athletes and coaching staff. Women of color face disparities with white women in faculty jobs, NCAA playing slots and coaching.
Today, the movement that brought about Title XI continues to fight for an array of civil rights issues, such as LGBTQ+ rights, reproductive healthcare, and more, which are being addressed using Title IX.
To end the lecture, Boschert talked about the four acts Congress has proposed—the Equality Act, Fair Play for Women Act, Clarifying Civil Rights Remedies Act of 2022 and Students' Access to Freedom and Educational Rights Act—that seek to improve the application of Title IX for the American public.
After the lecture, attendees had the opportunity to ask questions. Following a quick selfie with the audience, Boschert then signed copies of her books for attendees.
Before the lecture, Boschert participated in a question-and-answer session with Iowa State students and attended a private reception with Catt Center guests.
A recording of Boschert's presentation, including a transcript of her lecture and the question-and-answer session, is available on the Lectures Program website for those with an Iowa State email address.
The Mary Louise Smith Chair in Women and Politics was established in 1995 to honor the Iowa native and longtime political and civic leader. The event brings political activists, leaders and scholars to Iowa State once or twice a year to share their stories and inspire students with their experiences. The Carrie Chapman Catt Center sponsored this year's Mary Louise Smith Chair lecture with the support of the Committee on Lectures (funded by ISU Student Government) and the University Library.
Article by Clare Vilmont, Catt Center public relations and events planning intern
Published: March 13, 2023